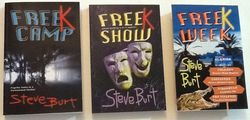 Steve Burt was already a Bram Stoker Award-winning author when he started writing his series of novels about psychic and paranormal teen detectives (they call themselves the FreeKs). Written at the adult reading level, the adventures feature 11 teen characters who are mentored by 3 adults who are all former sideshow performers. The series' awards reach from London and Paris to New York and San Francisco.

His short-story collections Odd Lot, Even Odder, Oddest Yet, and Wicked Odd total 39 stories in the series (a Bram Stoker Nominee, a Bram Stoker Winner, a Benjamin Franklin Award, and an Independent Publisher Award). A "best of" collection, Wicked Strange, features 13 excerpted stories from the series and won the New England Book Festival Award for Best Collection/Anthology.

Dr. Burt is a member of the Maine Writers and Publishers Alliance, the League of Vermont Writers, the Writers League of The Villages (FL), and a longtime member of the Horror Writers Association. He has served on the Bram Stoker Awards jury in the Young Adult category, reading and judging dozens of books. His collection Even Odder was a Bram Stoker Award Nominee in the Young Readers category (won by Harry Potter), and his collection, Oddest Yet, won the Bram Stoker Award in a field of four that included Dean Koontz, Clive Barker, and Jeff Marriott.
---
To order the FreeKs books
Use Amazon.com or www.bn.com unless you need autographed and/or personalized copies. $16.95 each plus $5 shipping or $44.95 for set of three, plus $5 shipping. Florida residents add 7% sales tax. Ebooks and audio books on Amazon. Checks to "Steve Burt", 17101 SE 94th Berrien Court, The Villages, FL 32162 or credit cards by phone 352 391-8293.








Author visits
Steve has been visiting schools, teacher conferences, and libraries for over 30 years to talk about reading and creative writing. Now, thanks to modern technology, he offers Skype visits around the country. (Steve is the 6'5" giant on the left end of the back row.)

---

Stories to Chill the Heart series
Creepers for Classrooms, Campfires, and Car Trips

No longer on Amazon, only direct from author. Limited availability. Each book is $14.95 (regular print, pen and ink covers by Jessica Hagerman) plus $5 shipping or $19.95 (YES, $19.95 for the set of 4 plus $5 shipping. There are large print versions with different covers on Amazon.com. And there's a Kindle ebook version of each on Amazon, plus the audiobook version read by Michael Piotrasch.

A new "best of" collection, Wicked Strange, contains 13 excerpted stories from the Chill the Heart series. It's $9.95 plus tax and shipping and is on Amazon as well. It has a Kindle version and an Audible audio book version. Read by Michael Piotrasch (Amazon, Audible.com, iTunes). New England Book Festival Award for Best Anthology.

What's So Great About the FreeKs series books?

The FreeKs are socially awkward teens and their odd circus-sideshow mentors are characters that readers of all ages can enjoy and relate to.

These are "crossover" books that use teen characters in novels written at the adult reading level (like Harry Potter, Hunger Games, Percy Jackson, and Twilight), so they appeal to ages 9 to 99.

The ideas stimulate the imaginations of readers. How cool would it be to levitate ten feet in their air? Or travel invisibly outside your body? What about mentally bending a spoon or opening a lock? What would you do if a the ghost of a murdered man came seeking your (and your friends') help? What could you learn about dealing with life and your "differentness" from three mentors who had been a sideshow midget, a circus hypnotist, and a fortuneteller?

Readers get to visit new places and learn new things. In FreeK Week the teens get personal "readings" in Cassadaga, Florida, the psychic medium captial of the world. They also search for clues in Gibsonton, Florida, also known as Freaktown USA and American's Strangest Town, where circus, carnival, and freak show performers live. How about Steve's description of an air boat ride among the alligators?

The novels employ the James Patterson approach: short chapters (3-4 pages) ending with a cliffhanger, coaxing even reluctant readers to turn the page and see what happens next.

The books are award-winning. FreeK Camp, FreeK Show, and FreeK Week have won 30 international awards including 4 Mom's Choice gold medals, the Moonbeam Children's Book Award silver, and the grand prize at the Florida Book Festival Awards.

School and public libraries love them. Readers love series books and look for the next one. The FreeKs books are always checked out. Libraries can order direct from Steve, through Create Space, or from Follett School Solutions.

Print book, ebook, and downloadable audio books are available from Audible.com, Amazon.com, or iTunes. Stage/screen actress and voice-over artist Melissa Epp brings the audio versions to life.

What others are saying about the books!

In his FreeKs books, master storyteller Steve Burt takes what might seem an implausible premise--teenagers with psychic powers--and grounds it in reality so well that you believe it. Combine that believe-ability with well-drawn "different" characters--add an equally believable and well-drawn threat--and you have a recipe for high levels of suspense. I couldn't put the books down and neither could my own teens or the teens I teach.
-David Finkle, Volusia County (Florida) Middle School Teacher of the Year, cartoonist/creator of the long-running middle-school teacher strip, Mr. Fitz

Steve Burt's mysteries are more than absorbing entertainment, they're also powerful teaching tools. They remind us about the importance of unique gifts in our society--an important message for all adolescents struggling to fit in. English teachers, language arts teachers, and reading teachers will discover in the artistry of Burt's three books--FreeK Camp, FreeK Show, and FreeK Week--a wealth of "mentor texts" for use in character analysis for young readers and character development for young writers.
-Joyce Hitt Gordon, national reading/literacy specialist, Long Beach, CA

Steve hit it out of the park with FreeK Camp. It's a terrific mystery with elements of sci-fi that made me happy. And while it's really aimed at teens, it kept me engaged all the way through (like the Harry Potter stories are fun for adults as well as the kids they are intended for). At the end I was literally holding my breath, waiting to see what would happen next!
— Laren Bright, Award-winning Hollywood animation writer retired from Hanna Barbera

Praise for Stories to Chill the Heart series

These are stories kids want to read and talk about! They're asking for Steve's books and want to know when we can have him back. The most successful author visit we've ever had.
— Fran Johnson, Media Specialist, Newfound Memorial Middle School, Bristol, NH

When I teach high school seniors story-writing, I always include Steve Burt's books. Teens know the real thing when they read it. The next best thing to camping in the woods.
— Marylin Warner, Pike's Peak Branch, National League of American PEN Women, Colorado Springs, CO

Your kids will love these stories and so will you! Spooktacularly entertaining summertime reading! Highly recommended.
— J.L. Comeau, Editor, The Creature Feature Review Page, www.countgore.com

If ever there was an author to rival the storytelling genius of M.R. James and E.F. Benson, Steve Burt is it.
— Don H. Laird, Publisher, Crossover Press, Threshold Magazine

Bram Stoker winner Steve Burt's stories have entertained—and frightened—my children for years, not to mention me. My son is out of college now and still talks about stories from the Stories to Chill the Heart series' four collections. You can't give a better compliment than that to a horror writer!
— Dan Keohane, author, Solomon's Grave